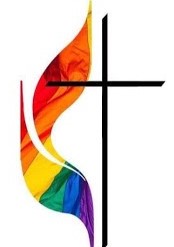 Welcome to Green Lake United Methodist Church! Nestled in the heart of Green Lake neighborhood in Seattle, we are a joyful, accepting, and embracing United Methodist congregation striving to love each other and our neighbors.
Our church is located in the stone Castle on the corner of N 65th Street and First Avenue NE. Detailed directions are available here. Our Sunday services are in-person at 9:30 a.m. and on the Greenlake Woodland Park YouTube channel at 11 a.m. This week's link: https://youtu.be/29A9lOpLWzE
Worship this Sunday, October 2: Wait, we finally get to Prayer in week THREE? Yes! After taking a deep dive into Commitment and Growth, then we get around to our practices and experiences of prayer. Thurman writes, "Prayer is not only the participation in communication with God in the encounter of religious experience, but it is also the "readying" of the spirit for such communication. It is the total process of quieting down and to that extent must not be separated from meditation. Perhaps, as important as prayer itself, is the "readying" of the spirit for the experience." Let's discuss this phenomenon of preparing oneself to pray, which is, in and of itself, a kind of prayer.